This is an alternative ThinkPad TrackPoint driver for Windows offering a reliable TrackPoint scrolling experience.
While designed to work for
Lenovo ThinkPad USB Keyboard with TrackPoint
this driver could potentially work for other TrackPoint hardware or even any mouse or pointer device with a middle button.
TrackPoint scrolling: hold down the middle button to scroll vertically or horizontally using your TrackPoint.
You can still adjust TrackPoint stick sensitivity as usual from Windows Mouse Properties. Hold down the middle button and use your TrackPoint for mouse wheel emulation. It works both vertically and horizontally.
Locate the download button toward the top right of this page or
click here
.
First install the
official driver
from Lenovo. You will still need it to be able to adjust sensitivity and other parameters from Windows Mouse Properties settings.
The latest version of this driver has been signed thanks to
Nefarius
.
You can skip this step if you are using a signed version of the driver.
Make sure you enable the
installation of unsigned drivers
on you computer. This is best done by running the following command as administrator:
bcdedit /set testsigning on
. If this is denied because of UEFI Secure Boot and you can't deactivate it then you won't be able to install that driver until a signed version is available. Sponsoring this project would help pay for signing the driver.
Download and unzip our driver.
Go to Windows Device Manager.
Locate your TrackPoint device below "Mice and other pointing devices".
Right click your TrackPoint device and select "Update driver".
Click "Browse my computer for drivers".
Click "Let me pick a list off available drivers on my computer".
Click "Have Disk…" button.
"Browse" to this driver location on your computer and select the INF file.
Select the driver and click "Next".
Validate various Windows warning messages if needed until installation succeeds.
Enjoy worry-free TrackPoint scrolling.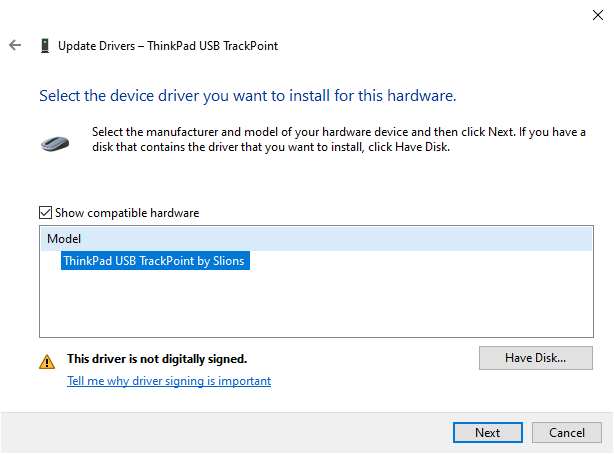 I've been using a couple of
Lenovo ThinkPad USB Keyboard with TrackPoint
for over a decade and they are still going strong. The newest
ThinkPad TrackPoint Keyboard II
, while pleasant to type on, has a rather unimpressive layout by comparison. I ruled out upgrading for the time being. One unique feature I use most on the TrackPoint is scrolling while holding down the middle button. However with Lenovo
official driver
, TrackPoint scrolling is rather unreliable. On some application it just won't work. On others like Visual Studio it will work for a while until it won't. This driver primary goal is therefore to get the scrolling working everywhere, reliably, exactly like your standard mouse wheel.
You want to do more with your keyboard? Things like being able to change your monitor brightness using Fn+Begin and Fn+End. Take a look at
CIC
.
Upstream forks:
Lenovo ThinkPad USB Keyboard with TrackPoint:
Linux driver for the same hardware